Qualifications of Seabay Logistics Regarding Air Freight
| | | | |
| --- | --- | --- | --- |
| Fully IATA accredited | The certified CATA member | An active Member of CIAF | Registered with WCA |
| | | | |
Our Long-term Cooperation with Major Airlines
Over the years, we have built long-term cooperation with major airlines all over the world. For examples, Air China, Hainan Airlines, Turkish Airlines, Singapore Airlines, Emirates Airlines, China Southern Airlines, China Eastern, and Cathay Pacific. The solid relationship enables us to balance service quality and cost-effectiveness, so our clients don't have to sacrifice one for the other.

Looking for a Reliable Air Freight Shipping Partner?

Seabay Logistics is Here Waiting for You !
1. We have offices in two first-tier cities in Mainland China: Shenzhen & Guangzhou. Geographical advantages allow us to grow and expand our reach.

2. We provide full coverage of customs airports in China, as represented by airports in Hong Kong, Shenzhen, Guangzhou, Shanghai, Beijing, and Ningbo.

3. We boast nearly 20 years of experience in handling air freight, accompanied by rich resources and extensive connections accumulated over these years.

4. We offer one-on-one customer services in multiple languages. All your questions and confusion will get prompt responses and expert solutions.
At Seabay Logistics, We Provide Premium Air Freight Services

1. We can grant you smooth space booking in peak periods.

2. We provide picking-up services to collect your goods from different suppliers.

3. We assume the responsibility of packing and repacking to maximize the space utilization and minimize the potential damage.

4. We can arrange consolidation to reduce your shipping costs.

5. We can conduct quality control when there is a need.

6. We have the ability to solve the last-mile challenge by offering you door-to-door delivery services.

7. DDP/DDU shipping solutions are also available.

8. Assisting in documentation preparation and handling relevant insurances also fall into our field of expertise.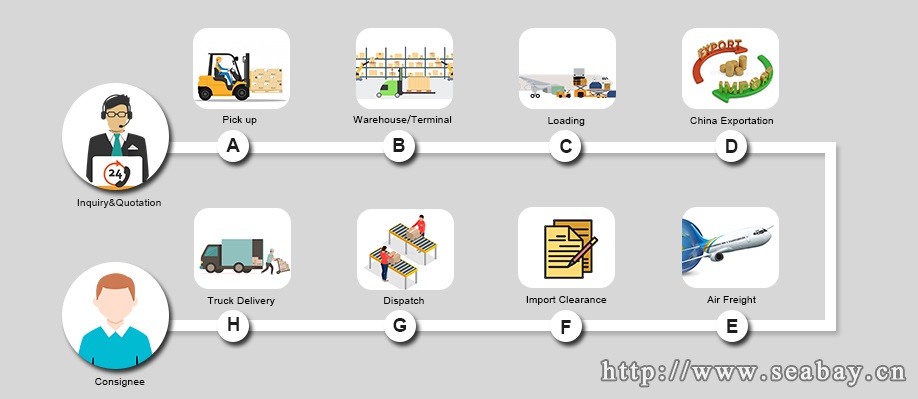 Our Advantages in Handling Your Air Freight from China:
Cost-effectiveness

We work in long-term cooperation with major reputed airlines. The high shipment volume we handle on a daily basis allows us to offer discounted freight rates for you.




Freight Collect ( DDU/DDP )

We provide DDU/DDP shipping solutions to meet various demands. Opting for DDP coupled with door-to-door delivery services means the goods will be transported to your hands directly, with duties and taxes paid beforehand.




Smooth Customs Clearance

Our rich experience in clearing customs can increase the efficiency in preparing required documentation such as the export license, certificate of commodity inspection, CIQ, fumigation, certificate of origin, and certificate of embassy endorsement. Our professional documentation services can greatly save your additional handling costs and smooth the customs clearance procedures.




Tailored Solutions

We are capable of handling air freight from 12-plus main airports in China to worldwide. We have also built firm ties with our strategic partners, whose participation is indispensable for most shipments. This enables us to book space even in peak periods and rein in the shipping costs for you. Our local network of connections and resources accumulated over the years allow us to propose shipping solutions tailored to your demands.




Visibility

All air freight shipments arranged by Seabay Logistics can be traced and tracked instantly through our website as long as you have the 11 digits number in the master airway bill. We inject visibility into the supply chain by offering you up-to-date reports on a daily or weekly basis.