1. Basics of Port of Hong Kong
1.1 Some Basic Information on Hong Kong Port:
Location

Kowloon Peninsula, South China Sea

Port Type

Coastal

(Deep-water port)

Land Area

279 hectares

Port Size

Large

UN/LOCODE

HKHKG

Detailed Address of HKP

Kai Tak Cruise Terminal

33 Shing Fung Road,

Kowloon Bay, Kowloon

Geographical Coordinates

Latitude : 22.28795

Longitude : 114.1814

Port Authority

The Marine Department of HKSAR
1.2 Port of Hong Kong Has Claimed Many Titles Since Its Establishment:
the international free trade port
the Natural Harbor of China
one of the world's busiest seaports
the major hub in the Southeast and East Asian regions
the economic gateway to mainland China
one of the busiest trans-shipment container ports in the world
......
1.3 Hong Kong Port Boasts Multiple Competitive Advantages Worth Mentioning. To List a Few:
● One of the busiest & most efficient international container ports
● Ideal port infrastructure, streamlined procedures, and advanced management
● Efficient loading & unloading procedures, as represented by VTT (Vessel Turnaround Time) averaging at 10 hours
● Capacity to hold about a hundred container ships for mooring, loading, and unloading in the meantime
● Terminals specialized for oil, coal, and cement in additional container terminals
● Wide coverage of international shipping routes, frequent sailings, high turnaround times, and efficient customs procedures

1.4 More Details about the Port of Hong Kong
Hong Kong has a maritime heritage of over 150 years, with 90% of its total cargo volume carried by sea and river. Since the establishment of Hong Kong Port in the 1990s, it has been regarded as the largest container port in the world. In the past years, seaports in Mainland China were fraught with incomplete infrastructure, infrequent sailings, and narrow coverage. Such shortcomings have driven shippers to ship goods from/through Hong Kong Port.

Hong Kong Port manages a total length of 7.8 thousand meters of public sea frontage so that the smooth movement of cargo will be ensured. In terms of port infrastructure, port facility, and logistics services, the Hong Kong Port is among the best providers in the world. The free port status (meaning no customs tariff on imports) is also distinguished. It is common that a large number of internationally-renowned companies opt for Hong Kong Port to transit cargo.

In the context of the Covid-19 pandemic, HKP's role as a trans-shipment hub has withstood severe tests and challenges.
2. Composition of Hong Kong Port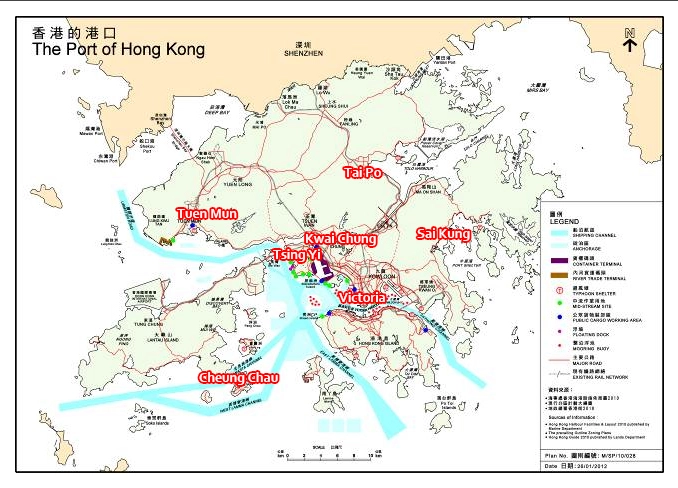 Composition of Hong Kong Port
2.1 Main Terminals of the Hong Kong Port
—The Kwai Tsing Terminals
—The Victoria Harbor
—The River Trade Terminal
2.2 There Are 15 Port Areas in the Port of Hong Kong, Namely:
| | | | | |
| --- | --- | --- | --- | --- |
| Aberdeen | Castle Peak (Tuen Mun) | Cheung Chau | Kat O | Lau Fau Shan |
| Saigon | Sha Tau Kok | Sham Tseng | Silver Mine Bay | Stanley (East) |
| Stanley (West) | Tai Australia | Tai Po | Tap Mun | Victoria |
3. The Handling Capacity of Hong Kong Port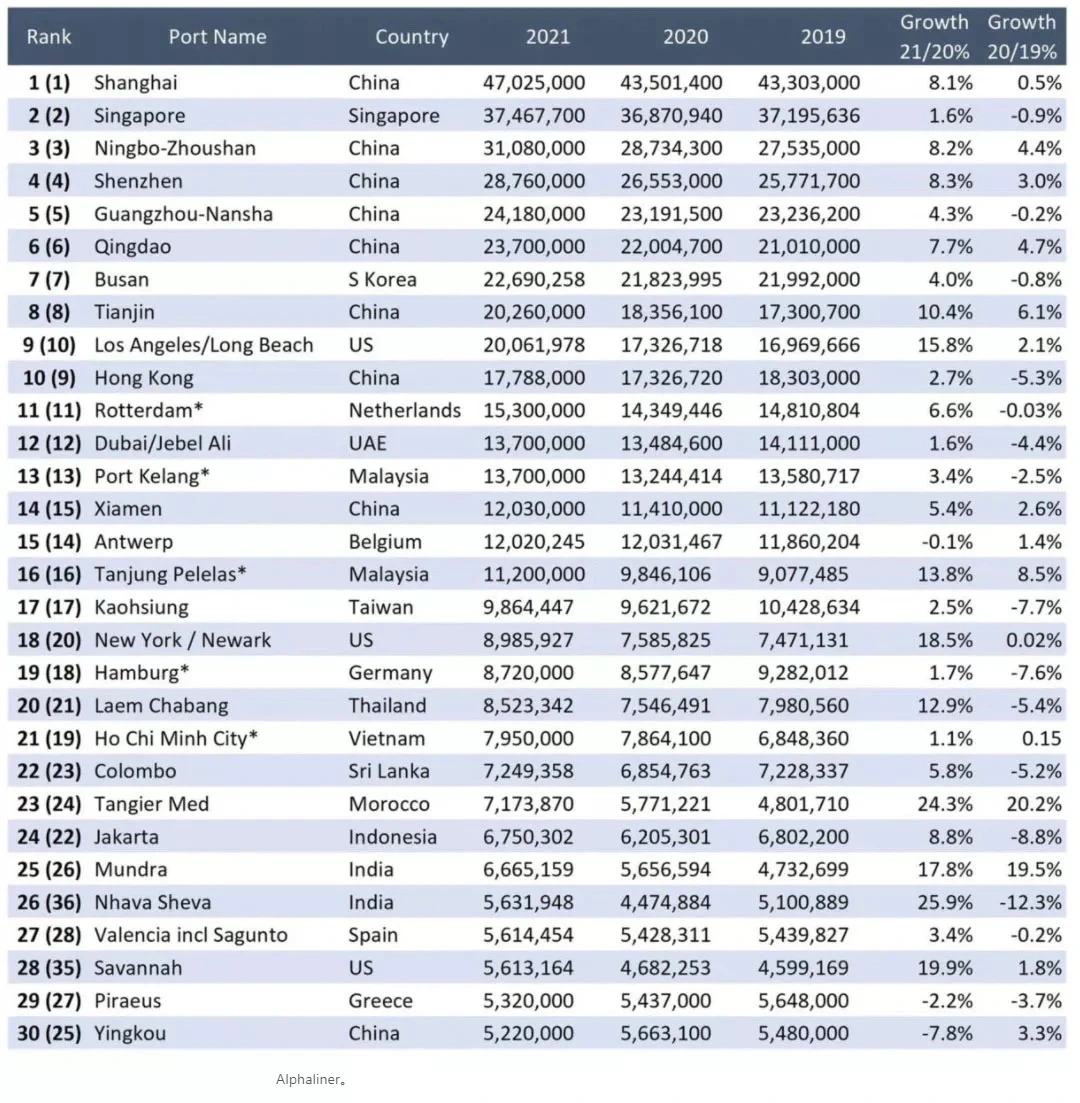 Alphaliner Container Port Ranking in 2021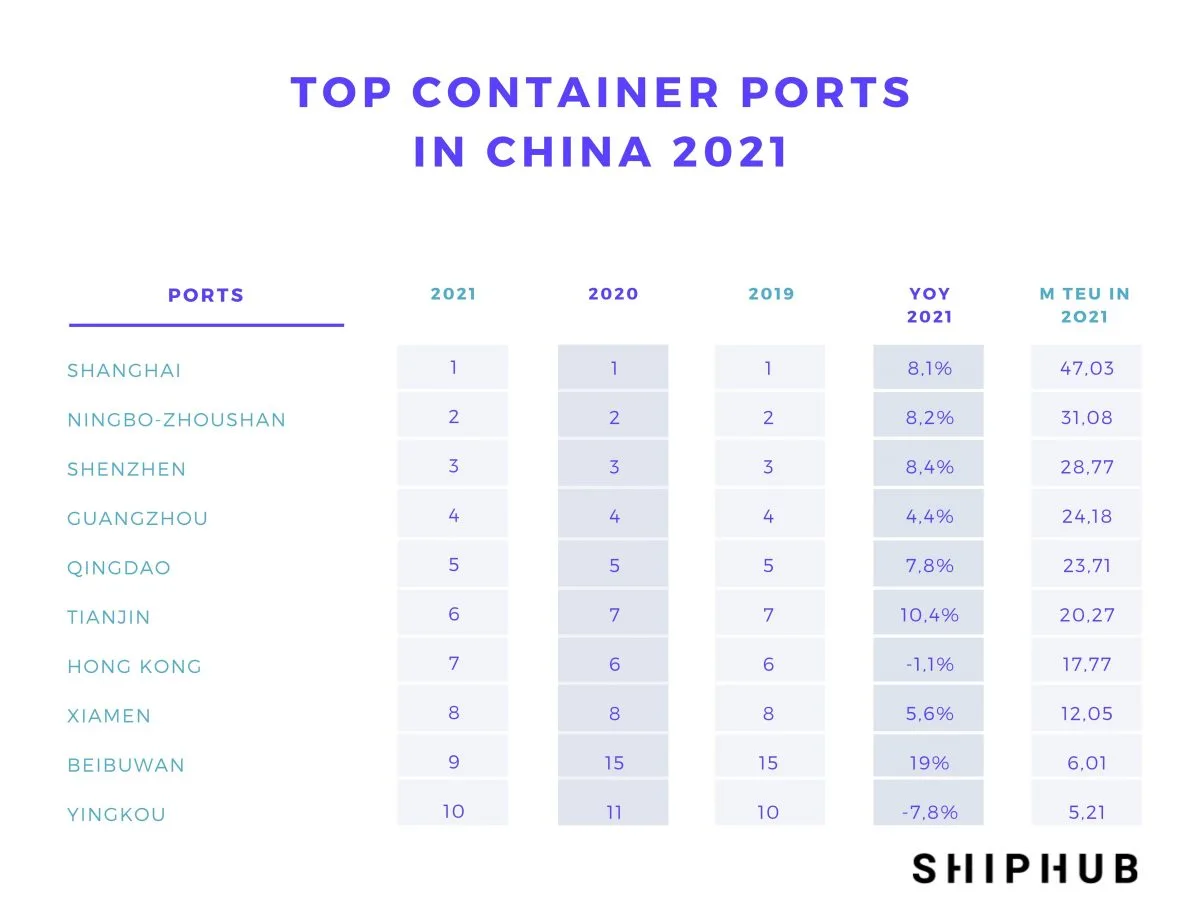 Top 10 Container Ports in China in 2021
Built on one of the finest natural harbors in the world, Hong Kong Port has been reputed for its efficiency and capacity for handling vessels.

The handling capacity of Hong Kong Port has been excellent, as always. It is estimated to reach 20 million TEUs per year.

According to the port authority, up to 62,477 container vessels and river-trade vessels arrived at Hong Kong Port in 2021. The container throughput & the cargo throughput of HKP in 2021 are listed in the table below:
| | | | |
| --- | --- | --- | --- |
| The annual container throughput | 17.79 million TEUs | Domestic ranking | 7th |
| The annual cargo throughput | 213.7 million tons | Domestic ranking | Below 20th |
4. Location of Hong Kong Port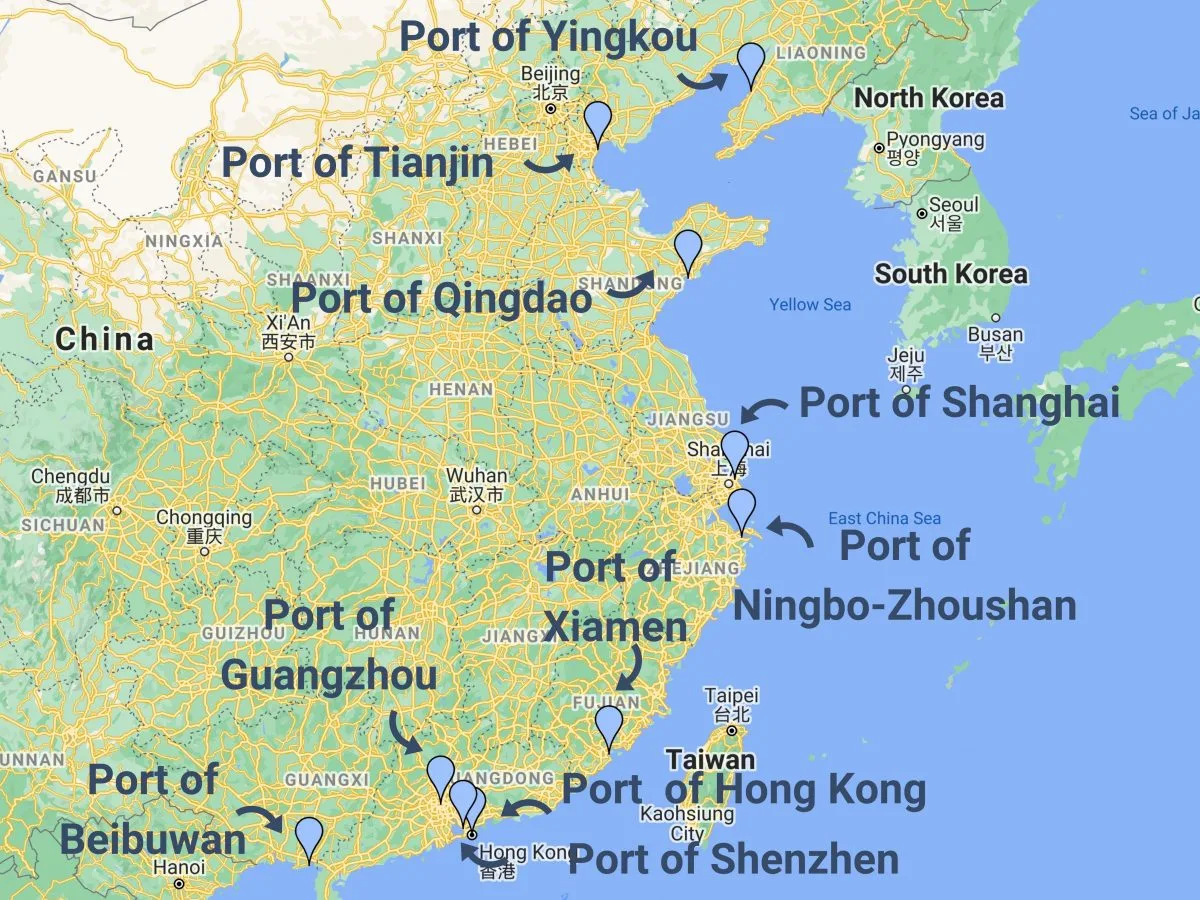 Location of the Chinese major ports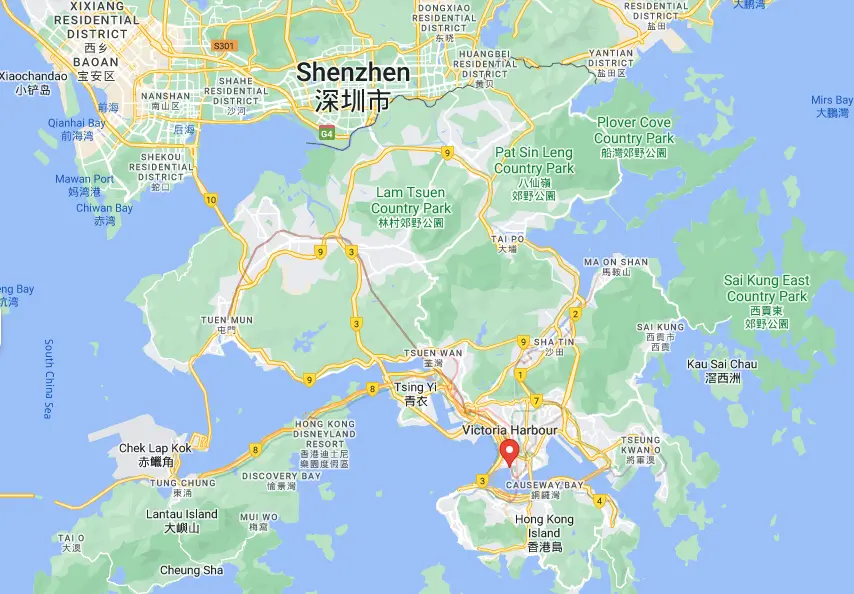 Location of the Port of Hong Kong
Hong Kong is bordered by Guangdong Province to the north and by the South China Sea to the south, east, and west. Hong Kong Port locates on the Kowloon Peninsula off the South China Sea.

Since Hong Kong is located to the east of the Pearl River estuary, HKP has been assigned to the Pearl River Delta Port System. Its proximity to the Chinese mainland seaports, such as the Shenzhen Port and Guangzhou Port, has brought enormous facilitation. Also, HKP is in the center of Asia Pacific Rim, whose economy grows rapidly.

The distinguished geographical advantages have earned Hong Kong Port the title of super connector between Mainland China and the rest of the world. The excellent natural harbors inside HKP contribute in part to the advanced development of HKSAR.
5. Climate
The region of Hong Kong lies inside the tropical zone. The climate of Hong Kong is characterized by hot, humid summers and dry, cool winters.

Tropical cyclones and typhoons usually occur from June to October, accompanied by torrential downpours and strong winds that may hugely affect property in Hong Kong.

According to the latest data, the average annual rainfall amounts to about 88 inches, with more than half of it falling in the summer months from June to August.
6. Liner Shipping Services Provided by Hong Kong Port
What are liner shipping services?

Liner services are most commonly associated with containerized cargo shipping. The sailing of these container vessels follows a fixed shipping timetable, shipping route, and port rotation.

According to data from Hong Kong Maritime And Port Board, Hong Kong Port offers an average of 270 container liner services on a weekly basis, connecting to nearly 600 destinations worldwide.
7. Port Usage
Of all kinds of vessels handled by Hong Kong Port, cargo vessels account for more than 50%. Fishing vessels, passenger vessels, tug vessels, sailing vessels, offshore vessels, and other vessel types contribute to the rest of the port capacity.
8. Port Facility
Port facilities of HKP include container terminals, the river trade terminal, mid-stream sites, public cargo working areas (PCWAs), shipyards, and typhoon shelters. Also, Hong Kong Port owns specialized facilities for the maintenance, repair, dry-docking, and slipping of all types of vessels.

HKP operates and maintains a total of 15 mooring buoys for sea-going container vessels: 8 are built for ships with a length of up to 183 meters, 4 are for ships with length of 160 meters, and 3 are for ships with a length of 137 meters. Besides, 6 out of 15 are typhoon mooring buoys, which means vessels will be secure when tropical cyclones hit Hong Kong.

Hong Kong Port provides two types of Government Mooring Buoys (GMB): Class A GBMs & Class B GBMs. Both can be used to serve sea-going vessels calling at the Hong Kong Port. With GBMs, vessels can moor at anchorages to transfer their cargo from and to the barges secured at the sides.

Hong Kong Port also offers a dozen of anchorages with different water depths to serve all kinds of vessels calling at Hong Kong. To be more specific, the HKP owns a total of 24 anchorages, 16 of which can be used for cargo handling. Anchorages function as temporary berthing places for vessels of different sizes. In 2021, up to 19 million tons of goods were handled at buoys and anchorages at HKP.
9. Collection & Distribution Networks of Hong Kong Port
The port collection and distribution system matters a lot. How the collection and distribution system works determines the efficiency and convenience of shipping goods to the port. The more complete the collection and distribution system is, the more willing customers will be to conduct business operations through this port.

Generally speaking, the collection and distribution system mainly includes land transportation network, air transportation network, internal branch transportation network, and multimodal transportation. In the case of Hong Kong Port, we will focus on transportation over water & transportation over land.

The PRD (Pearl River Delta) has drawn much direct trade traffic to the Port of Hong Kong, and some indirect traffic comes from the whole Southeast region. The ties between HKP and mainland China are built by highways, bridges, and the Pearl River.
9.1 Transportation over Water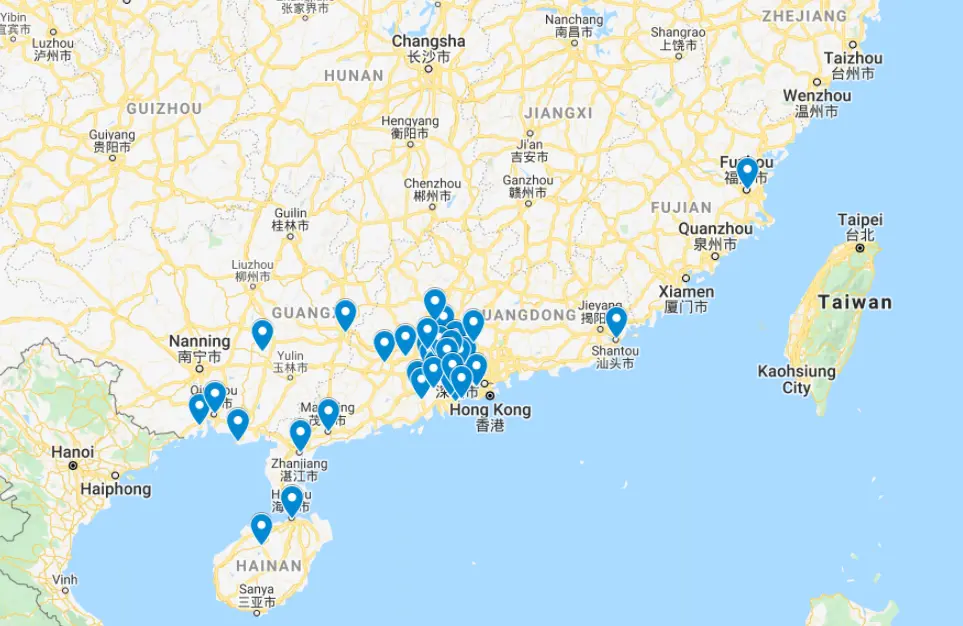 Feeder Services in Pearl River Delta via Hong Kong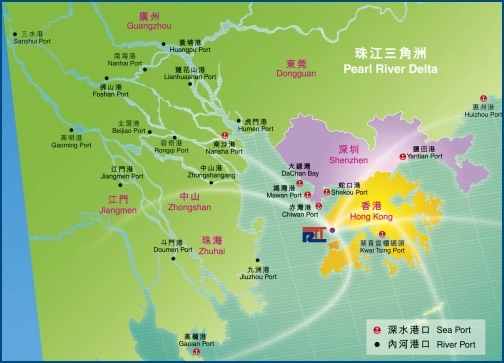 Logistics Hubs of the Pearl River Delta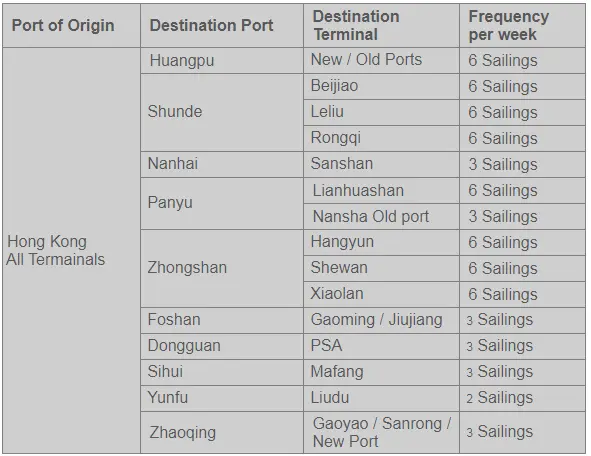 Schedule for General Feeder Services
The Xi (West), Bei (North), and Dong (East) River are tributaries of the Pearl River, which help to stitch the Port of Guangzhou, the Port of Shenzhen, dozens of inland ports, and Hong Kong ever more closely together, fostering a transportation network of waterways. Feeders are utilized for transporting cargo.

Direct vessels from other coastal ports to the Port of Hong Kong are used in cargo trade. When the goods arrive at HKP, they will be transferred to vessels for export. It is roughly estimated that 60-plus feeders sail between ports in Mainland China and Hong Kong Port.
9.2 Transportation over Land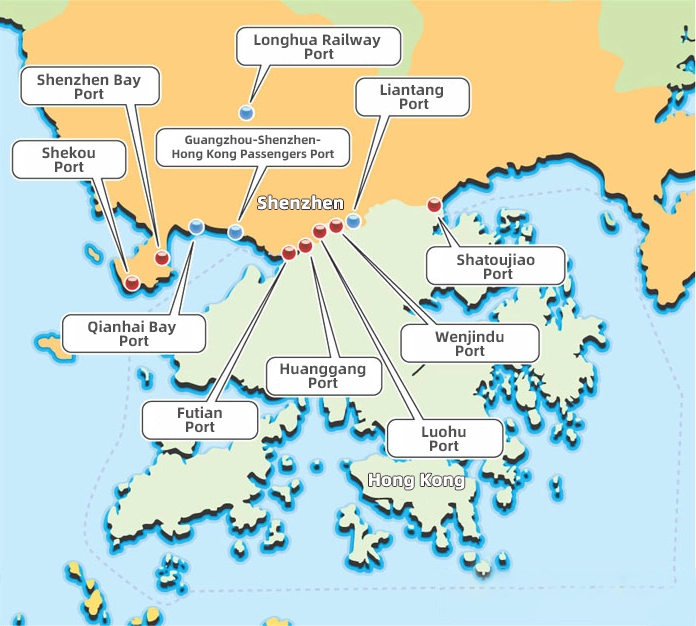 Map of the Shenzhen-Hong Kong Boundary and Ports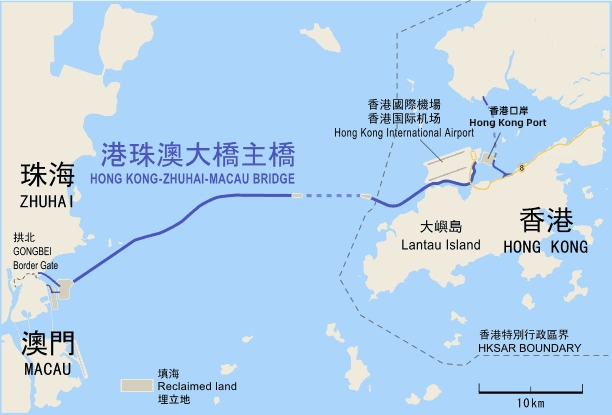 Map of Hong Kong-Zhuhai-Macao Bridge
The freight transport over land between mainland China and HK has two modes.

ONE: When the cargo is received in mainland ports, it will be delivered by truck. Ports such as Shekou Port, Shenzhen Bay Port, Qianhaiwan Port, Futian Port, Huanggang Port, Luohu Port, Wenjindu Port, Liantang Port, Shatoujiao Port, and Longhua Railway Port are used for cargo moving between Shenzhen and Hong Kong. Cargo has to go through clearance by Customs before being delivered to Hong Kong.

TWO: After the Hong Kong-Zhuhai-Macao Bridge has been put into use, the cargo can be delivered from Zhuhai Port to Hong Kong.
10. Hong Pong Port - Kwai Tsing Container Terminal
Layout of Kwai Tsing Container Terminal
Kwai Tsing Container Terminal is located on the northwestern of the Hong Kong Port. It is home to 9 container terminals with 24 berths, with a total area of 279 hectares. The deep water frontage is formed with a total length of 7,794 meters. As for the port facilities, Kwai Tsing Container Terminal is well-equipped with CFSs (Container Freight Station) and container yards for cargo handling.

The 9 container terminals are operated by 5 different operators listed below. Every operator undertakes different businesses with different shipping line customers.
| | | | | |
| --- | --- | --- | --- | --- |
| Modern Terminals Ltd (MTL) | Hongkong International Terminals Ltd (HIT) | COSCO-HIT Terminals (Hong Kong) Ltd (CHT) | Goodman DP World Hong Kong Ltd | Asia Container Terminals Ltd (ACT) |
Here we list 9 container terminals owned by Kwai Tsing Container Port and some basic information on them:
Terminal Name

Abbreviation

Water depths

(meters)

Number of berths

Number of cranes

Kwai Chung Terminals

Container Terminal 1

CT 1

16.5

1

4

Container Terminal 2

CT 2

16.5

1

4

Container Terminal 3

CT 3

14.0

1

4

Container Terminal 4

CT 4

14.2-16.0

3

8

Container Terminal 5

CT 5

16.5

1

6

Container Terminal 6

CT 6

14.2-16

3

11

Container Terminal 7

CT 7

14.2-16

4

15

Container Terminal 8

(East)

CT8E

15.5

2

9

Container Terminal 8 (West)

CT8W

15.5

2

8

Tsing Yi Terminals

Container Terminal 9 (North)

CT9N

16.0

2

9

Container Terminal 9 (South)

CT9S

16.5

4

16
Ultra-large container ships (container ships with a capacity of over 20,000 TEUs) are enabled to have access to Kwai Tsing Container Terminal because the navigation depth of the basin and the approaching channel stands at 17 meters. However, the water depth of Kwai Tsing Container Basin was not 17 meters until a project was conducted and finished in 2016 to deepen the Basin and its approach.

The handling capacity of Kwai Tsing Container Terminal stands at over 20 million per year. In 2021, Kwai Tsing Container Terminal handled 14.6 million TEUs, amounting to 82% of the total container throughput of HKP. The rest was handled by the river trade terminal, the mid-stream sites, the buoys, and the anchorages.
11. Hong Kong Port - River Trade Terminal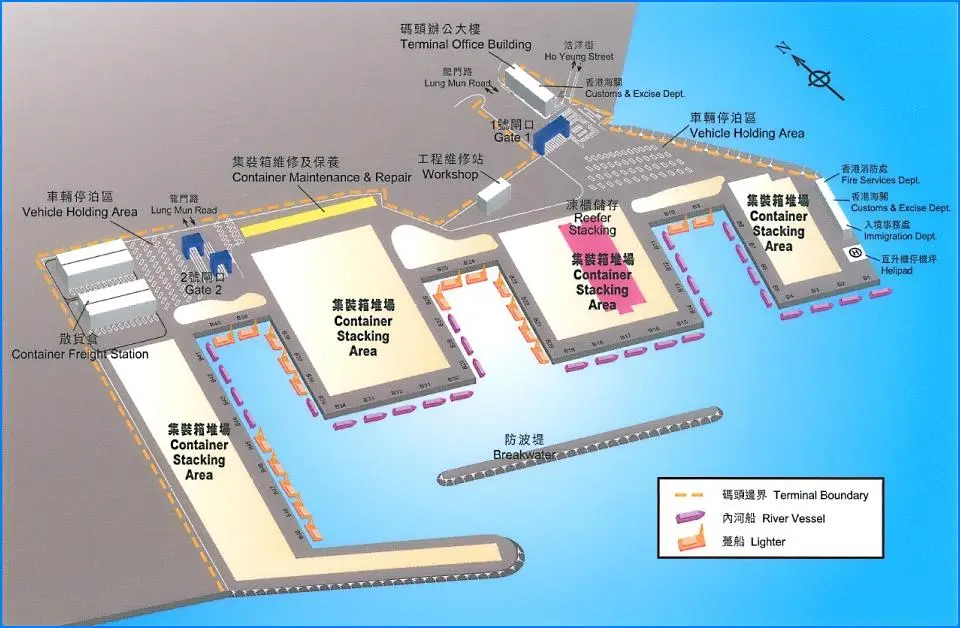 Layout of River Trade Terminal
The location of the River Trade Terminal (RTT) is near the Pillar Point in the Tuen Men. The advantageous geographical location has given it a favorable position to handle the growing volume of shipments within the Pearl River Delta.

The River Trade Terminal is the largest river trade container terminal in the PRD region. It occupies an area of 65 hectares, with a quay length of about 3000 meters. Besides, it provides 49 berths and a 65-hectare yard. The estimated stacking capacity is over 50,000 TEUs.

It is the first container terminal purposely built for handling river trade cargoes in and through Hong Kong. Its main function is to consolidate containerized, break bulk, and bulk cargo that ship between Hong Kong and ports in Pearl River Delta (PRD).

The River Trade Terminal (RTT) is capable of providing one-stop logistics services such as quayside container handling, storing dangerous and dedicated goods, reefer container storage, container maintenance and repairs, cargo handling and storage at well-equipped Container Freight Stations.
12. Hong Kong Port - Victoria Harbor
Victoria Harbor is strategically located on the South China Sea. To be more specific, it is situated between Hong Kong Island and the Kowloon Peninsula. According to data in 2014, the harbor covers an area of 41.88 k㎡.

The Victoria Harbor has been a bustling stop for cruise and ferry passengers in recent years. It is also viewed as one of the most popular tourist attractions in the world.

In addition to its function to serve passenger shipping, Victoria Harbor has the ability to accommodate the biggest ships and handle all types of ships because of its natural deep-water harbor waterway.

The islands within the Victoria Harbor include:
Green Island
Little Green Island
Kowloon Rock
Tsing Yi Island
13. Recent Updates on the Policy or Development of Maritime Shipping Industry in Hong Kong
● The National 14th Five Year Plan has outlined that the high value-added services provided by Hong Kong Port will get further support. To be more specific, services including ship registration, ship management, ship finance, and marine insurance will be fostered. The advances in maritime industry of Hong Kong will also drive the development of the world-class port cluster including HKP.

● In addition to the existing preferential regime for ship leasing companies, the HK government has introduced new tax concessions for ship managers, ship brokers, and ship agents since July 2022.

● The Outline Development Plan for the GBA by the Central Authorities in 2019 has affirmed the role of Hong Kong Port as the international maritime center. Hong Kong Port will work in close relation with ports in Guangdong, which handle direct shipments to ensure a win-win outcome for both parties.

● In 2021, the HK government and the HK Shipowners Association have made joint efforts to introduce a package of measures to ensure a stable flow of cargo, including the decision to allow qualified ships without cargo operations to enter Hong Kong for pure bunkering and other ship services so that operations of the global shipping industry will be facilitated.


14. How Has the Freight Shipping Volume Handled in Hong Kong Port Changed over the Recent Years?
Historical legacy has contributed to what the Port of Hong Kong looks like right now. The establishment of Kwai Tsing Container Terminal in the 1970s coincided with the implementation of reform and opening-up policy, giving a boost to HKP's transformation to a major container port in the world.

A surplus of the labor force, coupled with a slate of favorable tax policies offered by Mainland China has propelled its partnership with corporations in Hong Kong.

Back in that time, ports in Mainland China lacked facilities, waterways, and container vessels. As a result, shippers all give preferences to the Port of Hong Kong. Indeed, HKP lived up to its reputation as an international free trade port, as represented by its extensive shipping routes, frequent sailings, and standard Customs services.

As freight shipping has thrived, Hong Kong Port has developed itself into an international shipping hub since the 1980s. When speaking of the largest container port in the world, HKP would enter people's mind.

As for shipping routes, a major one that meanders through the Southeast region of China from North to South will depart for the destination, Port of Hong Kong. Likewise, exports carried from HKP can reach the Port of Destination at the fastest speed. It has turned out that an increasing number of shippers opt for HKP for exporting.

However, there was a time when the growth of freight shipping slowed down in HKP. In the context of China's accession to WTO in 2001, ports in the mainland, especially Port of Guangzhou and Port of Shenzhen, have seen an improvement in facilities. The consequent rise in sailings and expansion of shipping routes of the ports in Mainland China have thus slowed the growth of cargo shipping in HKP.

Kwai Tsing Container Terminal has been upgraded and scaled up in order to fix this. It worked. Kwai Tsing Container Terminal has been the busiest container port in the world till 2004. It was topped by Port of Singapore and Port of Shanghai subsequently.

During 2004-2021, the growth of container throughput in HKP has been slowing. Reasons for that include:
● Local trucking fees generated through the cargo's journey destinated at the HKP will be much higher than that destinated at Shenzhen Port or Guangzhou Port.
● The cost of land usage is prohibitively high in Hong Kong.
● Streamlined procedures of customs declaration and newly introduced bonded areas in Mainland China have gained competitive edges.
● The ever-widening coverage of international container liner services of Shenzhen Port and Guangzhou Port has provided more options.
● The Covid-19 Pandemic has spelled trouble for cargo transportation between Hong Kong and Mainland China.
● The Outline Development Plan for Guangdong-Hong Kong-Macao Greater Bay Area has stated the importance of further developing ports in the Pearl River Delta. So More freight volume will be handled at Guangzhou Port and Shenzhen Port.

However, the drop in container throughput of Hong Kong Port does not mean it has lost its advantage as an international logistics service center. The service quality and handling capability of Hong Kong Port are not dented at all. Its container throughput still ranks top 10 in the world regardless of keen competition from nearby ports, namely ports in the PRD region.


15. Main Directions of Developing Hong Kong Port in the Near Future
● Hong Kong Port will seize the development opportunities of the Greater Bay Area (GBA), further cooperate with other ports in the GBA, and thus expand its presence to the wider world.
● Hong Kong Port will develop and apply smart waterways in Guangdong, Macao, and Hong Kong.
● Hong Kong Port will adopt advanced technology such as the Beidou Navigation Satellite System.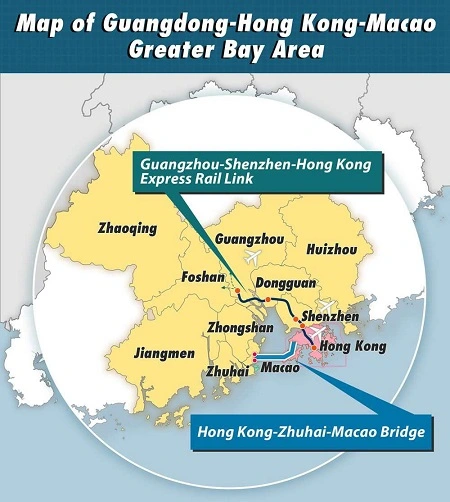 Map of Greater Bay Area
For your information, below we will show you statistics on cargo movement between Hong Kong and ports in the Greater Bay Area (2021).
(Goods discharged refer to goods from that region discharged in Hong Kong, while goods loaded refer to goods loaded in Hong Kong for shipment to that region.)
Port cargo discharged

(1,000 metric tons)

Share of port cargo discharged in terms of total cargo throughput (%)

Port cargo loaded

(1,000 metric tons)

Share of port cargo loaded in terms of total cargo throughput (%)

Total

169,931

100%

79,355

100%

Mainland China

85,207

50.1%

41,738

52.6%

Nine GBA Cities

69,334

40.8%

31,290

39.4%

Macao

848

0.5%

3,045

3.8%