1. How to Buy Safely from Alibaba.com?
2. Four Ways to Find a Trustworthy Supplier
2.1 Pay Attention to Years on Alibaba.com
2.2 Check Product Page and Product Categories
2.3 Opt for Trade Assurance Suppliers
2.4 Customer Reviews Help a lot
3. What if a Supplier Lacks the Verified Supplier Symbol?
4. Conclusions
1. How to Buy Safely from Alibaba.com?
Starting as a domestic company and now a global player, Alibaba.com has been woven into the fabric of daily life for hundreds of millions of people around the world. However, the rapid expansion of Alibaba.com does not come with the guarantee of the quality of suppliers.
Alibaba.com puts suppliers through a rigorous vetting process, but scams still happen from time to time, as we wrote in How to Spot Alibaba Scams [Guide 2022].
For buyers, Alibaba.com represents numerous business opportunities. When they find the right supplier and get high-quality products at low prices, they will be able to gain profit margins.
However, they should find trustworthy suppliers at first. If buyers have no experience in dealing with suppliers, they may fall victim to Alibaba scams. It is necessary to do some research before payment.
Buyers should make sure that the supplier they choose is in fact registered and licensed. Besides, there are other signs to look at when evaluating a supplier. As an international logistics partner with Alibaba.com, Seabay has been on this platform for as long as 17 years. We have accumulated rich experience and established a successful global operation strategy. So we offer this Guide to help buyers find reliable suppliers on Alibaba.com, hoping to smooth their businesses.
2. Four Ways to Find a Trustworthy Supplier
2.1 Pay Attention to Years on Alibaba.com

Years on Alibaba.com matters a lot. Buyers can check the company's profile on Alibaba.com, which reveals the year of registration. It will tell buyers whether a supplier is newly registered or a veteran.
It is wise to reach out to suppliers that have been around for at least five years. The longer suppliers stay on Alibaba.com, the more reliable they tend to be. Suppliers have to spend a lot on maintaining a record of good faith. For example, they are liable to pay the annual membership fees, the costs of vetting by a third-party body, and the expenses of product compliance testing in order to show credibility and stability.
For more traffic and more business opportunities, suppliers also have to pay for every click on their product advertisement. What's more, there is labor cost. Suppliers need to hire staffs to post new products continually and stay online for buyer's inquiry. It costs suppliers on Alibaba.com at least 20,000 USD per year to run active operations.
All in all, windfalls from fraud cannot easily justify the risks, so they prefer not to be implicated in any kind of fraudulent activities.
Compared with old suppliers, the costs for the new comers will be much lower. Chances are that a few of them will take a risk to commit fraud to earn quick cash. Buyers should use more caution when contacting new suppliers without references or credit records.
2.2 Check Product Page and Product Categories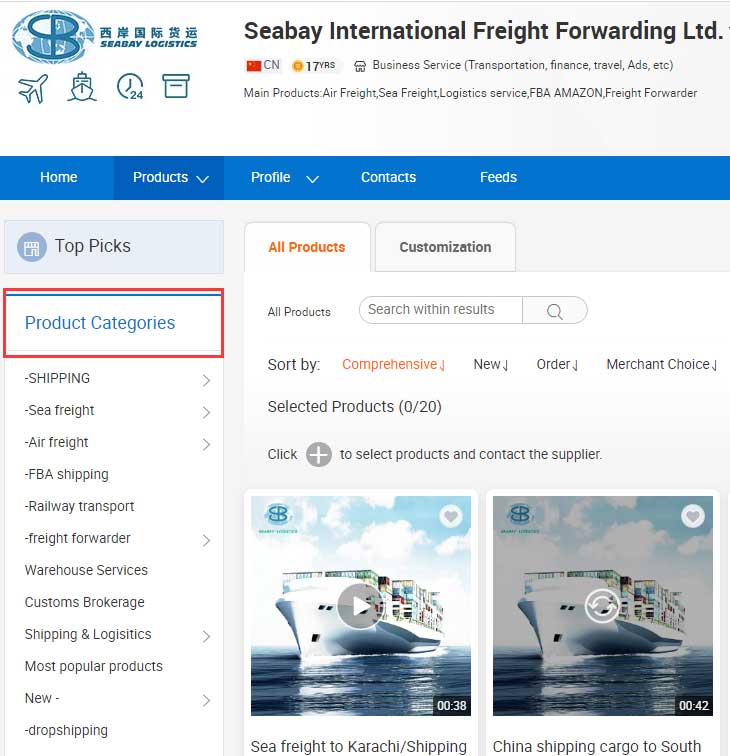 As a buyer, you had better fully understand your target product's model and raw materials, so you won't be at a loss when deciding which supplier works best for your specific needs.
Alibaba.com has introduced a feature called Supplier Search. It shows a list of suppliers selling the product you searched for, so you don't have to review the product catalog yourself.
We recommend that you pay close attention to the product page in order to gauge suitability. If an online company wants to thrive, it will put efforts into editing every product page.
The ideal product page's content should be accurate and informative:
● First, the product description should match the high-resolution picture.
● Next, the products details should at least contain: place of origin, brand name, model number, and packaging & delivery information.
● Last, what is shown in Main Products/Services, Product Recommended or Related Products should look cohesive with each other.
Buyers should also take a look at the supplier's product categories, checking out the products they list for sales. If the supplier is advertising or showcasing a mix of different products, buyers should reconsider their specialization. Generally speaking, a manufacturing supplier posts what they produce. Whereas a trading supplier tends to post vast types of products.
If a supplier claims to specialize in leather shoes, but other products like bikes can be found in their categories, then you are likely to run into trading suppliers.
If all the products listed for sales are made out of the same material or can be classified into one category, buyers should give preferences to this supplier. The quality of products will be guaranteed to some extent.
2.3 Opt for Trade Assurance Suppliers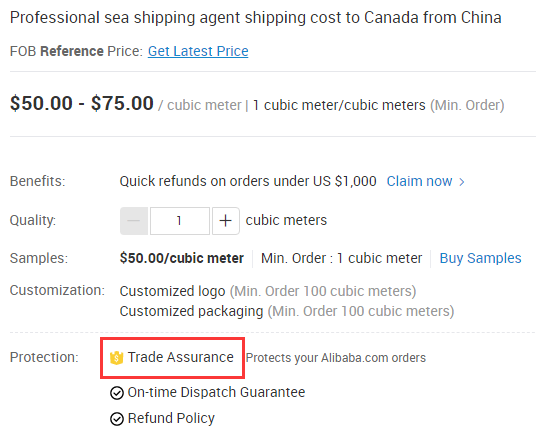 The badge of Trade Assurance can mean something, but not anything.
Trade Assurance is a built-in tool to secure transaction through Alibaba.com. In other words, protection is enforced when orders are placed on and paid for via this platform.
Trade Assurance online order makes sure that buyers can request a refund in the event of quality issues and shipping delays. Scams can be largely avoided. So we advise that buyers opt for Trade Assurance suppliers. They can be easily identified by the Trade Assurance symbol.
However, as we said in How to Spot Alibaba Scams [Guide 2022] , offline deals/off-platform deals do not necessarily relate to scams. To prevent being scammed, buyers should check the receiving account information when suppliers require to bypass Trade Assurance.
If a buyer works with a supplier for the very first time, then they might as well choose those with Trade Assurance symbols.
2.4 Customer Reviews Help a lot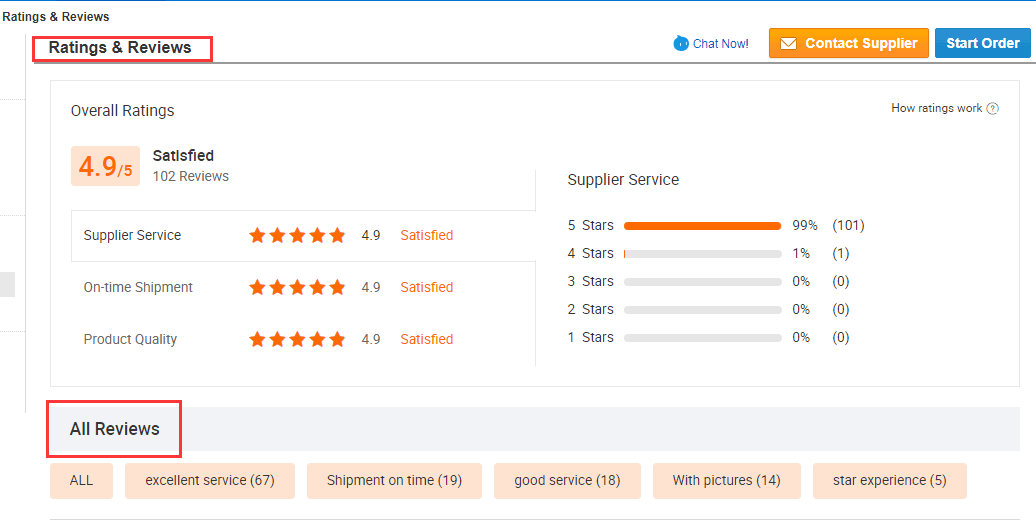 Reviews from other customers are valuable information that buyers should look into. Buyers can judge whether a supplier is reliable by them.
Browsing through reviews left by other customers, buyers can learn about many things about the supplier. For example, the service before and after sales, the quality of products, and the ratio of on-time delivery.
Bad reviews should be valued particularly. They are given due to many reasons. Are products arrived too defective or crappy? Is the communication having a problem? Can customers get products on time? What matters most is the response from suppliers. Credible suppliers will try every means to solve issues instead of passing the buck or completely ignoring them.
Please remember suppliers are only human and all too fallible. They can't make every buyer 100% satisfied. But the way they grapple with problems can indicate credibility.
Buyers can weigh the negative reviews against positive ones and then make their own decisions.
3. What if a Supplier Lacks the Verified Supplier Symbol?

Verified Supplier doesn't necessarily mean anything. If an online company does not be titled as a Verified Supplier, it's not a bad sign. The company might totally be able to obtain it. However, it prefers to save costs.
Getting a Verified Supplier symbol is not complicated at all. Suppliers only have to pay for it. This is one source of incomes for Alibaba.com.
The assessment of Verified Supplier leaves too much room to maneuver. A verified supplier does not equal a reputable and trustworthy one. Buyers should not simply count on this symbol to have a secured buying experience.
4. Conclusions
Reliability always comes top of the list because traps are everywhere. You should be very patient and careful in doing the research.
When you finish reading this Guide, you are well-equipped to choose a trustworthy supplier on your own. We hope we have clarified what to look at when searching for the right fit.
Seabay on Alibaba.com is committed to offering solutions regarding international trade, international logistics, and online business operations. With this guideline, buyers can always have a way to minimize or even hedge the risk associated with buying from Alibaba.com.
Finding a trustworthy supplier can really provide powerful leverage to your business operation. Now give it a try and start your venture.