Introduction
IATA Airport Codes or 3 Letter Airport Codes is the most frequently used language in the air shipping industry.
What is the airport code & city code?
A city code is a three-letter code designating different cities around the world. Sometimes, the city code is the same as a specific airport code in the city.

As for airport codes, there are three kinds of codes: IATA code, ICAO code, and FAA code.

An IATA airport code, also known as an IATA location identifier, IATA station code, or simply a location identifier, is a three-letter geocode designating many airports and metropolitan areas around the world, defined by the International Air Transport Association (IATA). And it is used most widely in aviation and logistics.

The ICAO airport code or location indicator is a four-letter code designating aerodromes around the world, defined by International Civil Aviation Organization (ICAO).

The FAA code is assigned by Federal Aviation Association (FAA). FAA is the United States' civil aviation authority, governing domestic airlines, their operations and regulations. It is a three-to-five character alphanumeric code that identifies aviation-related facilities inside the United States.

What's the difference between ICAO codes and IATA codes?
Their designation is markedly different and they serve different purposes. ICAO is used for official purposes as it is concerned with regulating international travel at a state level while IATA is used for commercial purposes as it focuses on the private sector. But the most obvious distinction between the codes used by the ICAO and IATA is very simple — ICAO codes are four letters, whereas IATA codes are three letters.


In short, ICAO codes are four-letter codes used by an appendant body of the United Nations to designate international flights and govern the standards of air travel. IATA codes are three-letter codes used by a non-governmental trade organization to efficiently identify airports, airlines, and flight paths for consumers.


Where can IATA airport codes be used?
The mostly frequent used airport codes, are the IATA Airport Codes, or 3 Letter Airport Codes, the unique identifiers of the world airports.


Airport Terminals
An IATA airport code is the unique identifier of each airport terminal. Every code represents only one airport and never repeats. For example, there are several airports in Moscow, and each airport has its airport code. When the buyer or consignee instructs his forwarder or supplier to ship his cargo to "SVO", he may has his own customs broker in SVO terminal to help them to clear custom. If you neglect his instruction, and ship the goods to any other customs airports,like DME, or VKO in Moscow, the consignee may has problems to have the goods cleared.
It is very important to choose the right IATA airport code for your shipment, misuse of IATA airport codes may cause disaster in the air shipping operation.
Airway Bills
The IATA airport codes are used on the airway bill.
Airport Tickets
The IATA airport codes also appear on the airport ticket.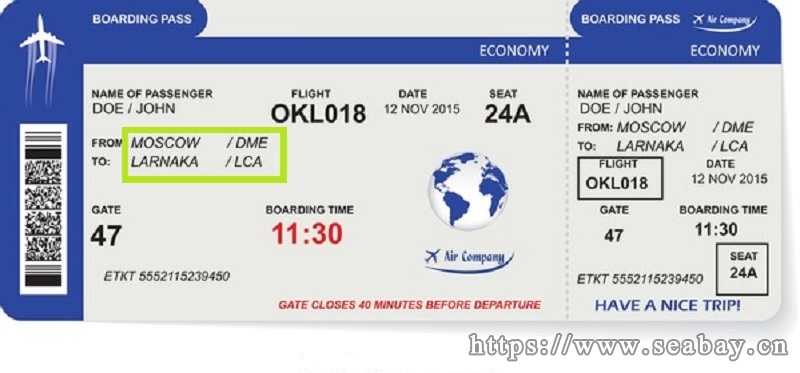 Airport Baggage Lags
The IATA airport codes are applied to the baggage lags. When you take planes, you will always see the IATA airport codes on your baggage lags. On tags, IATA airport codes of destination are printed, such as FUN, Funafuti International Airport.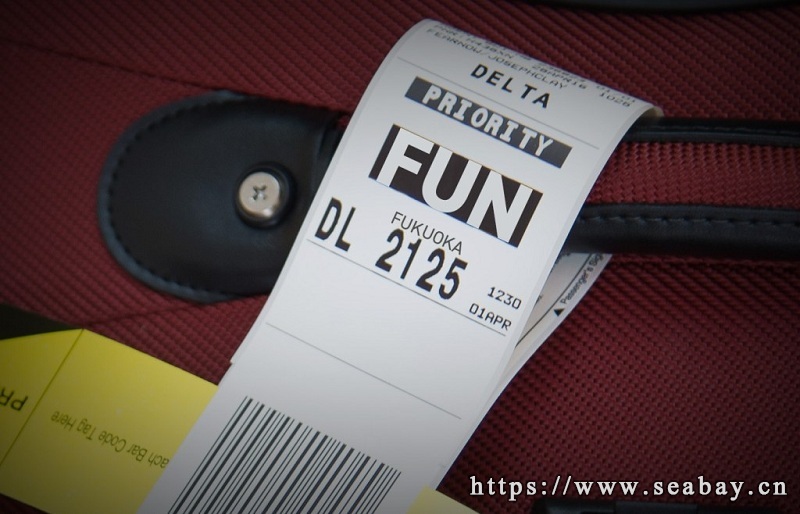 How to find the proper airport codes for your air cargo shipment?
Seabay Logistics develops an airport code search system to help you. You only need to enter the city name, airport name, or country name in the search box, and you will see a lot of relevant information in the result.
For example, many airports in New York will show on the page like JFK, NYC, SWF if you enter New York. When you click an airport name, more details will be delivered on the page, and you can choose an appropriate airport regarding distance, clearance requirements, price, and time. And if you want to read the clearance requirements, please register first! After registering, you can read the whole clearance requirements like documentary requirements, terminal handling charge, storage, and so on for free.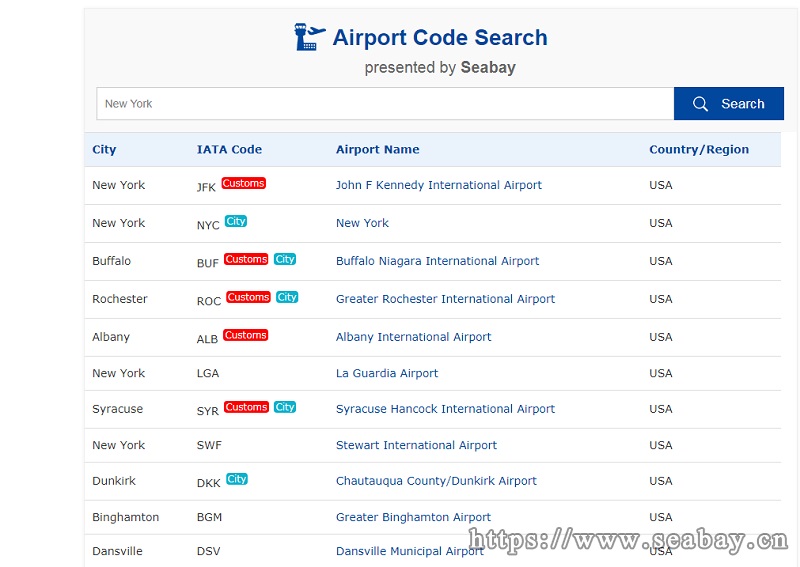 But when you want to ship your cargo from one country to another country, you need to pay attention to the customs airport.
How to identify the customs airport?
A customs airport is an airport notified by the appropriate customs authority of the country as an airport for the unloading of imported goods and the loading of export goods or any class of such goods. If you don't choose a customs airport when you intend to import or export your cargo, your cargo can't be shipped.
For example, if you want to ship your cargo from China to Israel, but you don't know how to choose the destination airport, you can just go to seabaycargo.com, find the airport search box, type Israel and search, then the system will show you the whole country's airports with IATA airport codes.
From the below Israeli airport lists, you can see there is only one single airport code TLV marking "Customs", which is the only choice for your international cargo destination airport. If there are alternative customs airports in the same country, you can look into every specific airport to find the most suitable one for the shipment.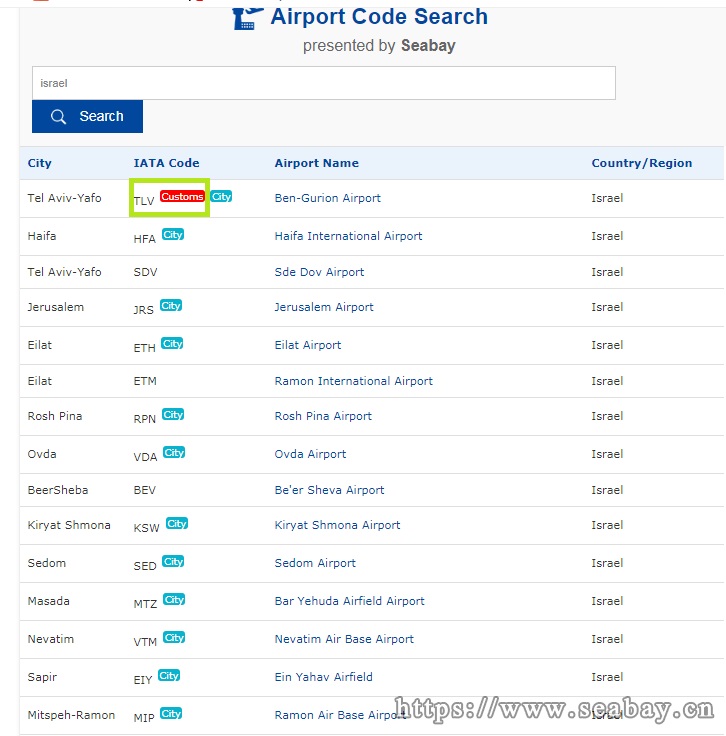 And you can also know the direct international flight to and from target airports. There is a Bing Map on the bottom for you to see the routes. Please find the international freight on

Seabay Logistics

using IATA codes!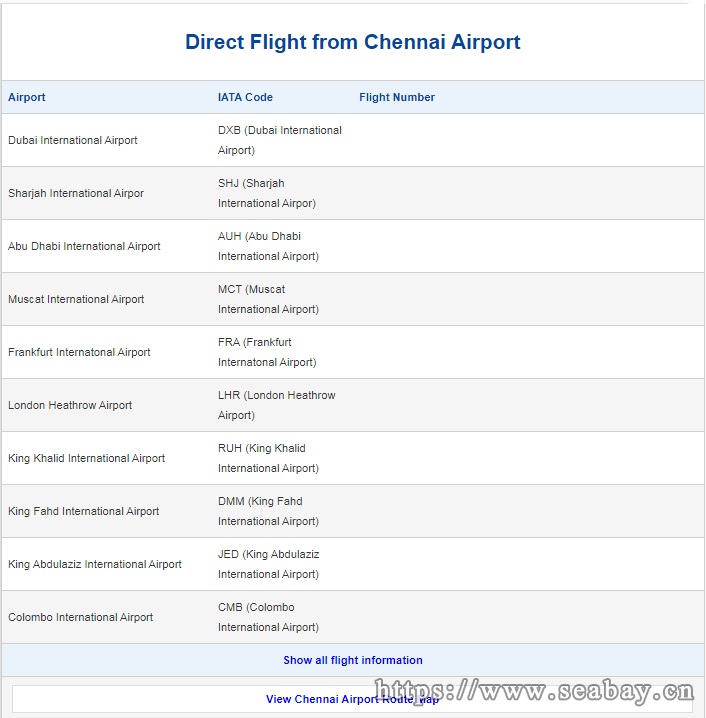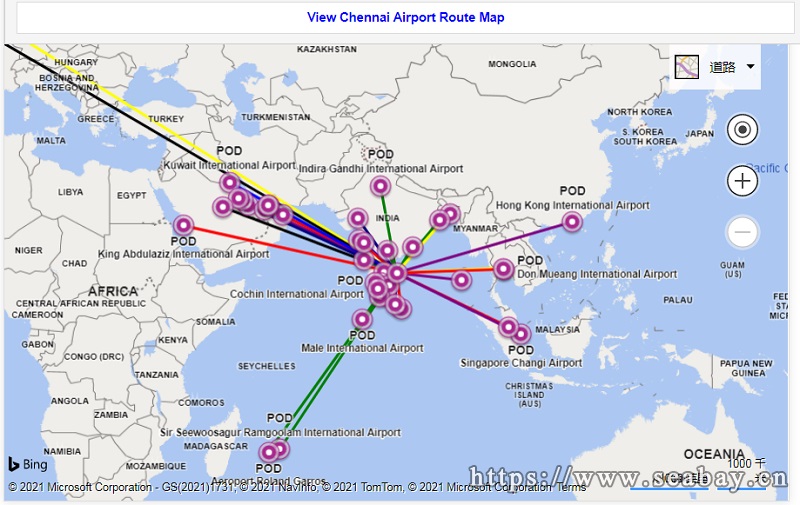 Seabaycargo.com provides powerful logistics tools for the international shipping industry. Besides helping shipping expert to find out suitable airport codes for the specific shipment, Seabaycargo.com also provides multiple solutions for every shipment from China to all destination airport with up-to-date accurate air freight.