FCL Shipping: Definition, FCL Shipping Rates, Benefits, and Container Types

FCL, a widely used shipping method in the world of sea freight transportation. With FCL, you can ship larger shipment volume or more cargo quantities at lower costs. How exactly does FCL work? How are FCL shipments charged? What are the pros and cons of shipping by FCL? Read on, and we will help you understand all the intricacies of FCL shipping.
1. What is FCL in Logistics?
FCL stands for Full Container Load. The cargo loads that fill a full 20ft/40ft container transported via sea can be referred to as FCL shipments.
In FCL shipping, an entire shipping container will be exclusively used to hold cargo for one shipper or one consignee. FCL consignments will not share container space with other shipments.
2. How Long Will FCL Shipping Take?
With sea freight shipping typically ranging from three to six weeks, FCL shipping generally falls within the same timeframe. But the actual duration of FCL can vary widely, depending on the origin and destination.
Since the need for consolidating and deconsolidating is eliminated in FCL shipping, it is generally faster than LCL (Less than a Container Load). However, it is still worth noting that both shipping methods are under the influence of weather conditions, port congestion, the complexity of customs procedures, and more.
3. FCL Shipping Procedures
1. Book space for your FCL cargoes
2. Prepare and submit the required documents
3. Handle customs procedures for exporting
4. Load your goods into an FCL container
5. Transfer the FCL cargoes to the terminal
6. FCL sea freight transportation
7. Unload your FCL cargoes at the destination port
8. Clear your FCL cargoes for import
9. Deliver your FCL cargoes to the destination warehouse
4. Documentation Required for FCL Shipments
Bill of Lading - It contains information on the shipper, consignee, cargo types, and cargo quantities.
Packing List - It is used to identify items and includes information of item quantities, the gross weight, and dimensions of packages.
Commercial Invoice - It includes the total value of the shipment, and the value of each item.
Certificate of Origin - It will show the origin of the items in the shipment.
Cargo Insurance - It will cover the goods for cargo loss or cargo damage.
5. What are the Benefits of Shipping FCL Cargoes?
Quicker Transit Times
Under FCL, your cargo will be loaded into a shipping container directly at the origin port, and the entire shipping container will be transported to the destination straightaway without consolidating or deconsolidating. It is estimated that shipping FCL can save 4-7 days on average compared to using LCL. After all, chances are that different LCL shipments need to be shipped separately to different ports of destination.
Added Protection for Your Cargo
Risks lurk everywhere in international shipping. Improper handling in loading and unloading could increase the overall risks of damage. However, you can have exclusive use of a full container with FCL, which means that your cargo will access the enhanced security offered by the tightly sealed container.
For fragile goods, it is highly recommended that using FCL because fragile items are sensitive to shocks and vibrations and are prone to breakage if not handled with care.
May Be Cheaper than LCL in Certain Cases
Generally speaking, the cost per unit of goods shipped via FCL is lower than LCL rates. The reason behind it is that FCL shipments are charged at a flat rate per container. When transporting a large volume of goods, choosing FCL can help you save money.
Paying FCL flat fees may lead to cheaper shipping charges in certain scenarios: if your shipment volume exceeds 14 CBM, you can make a less expensive payment by going for FCL. Considering a 20-foot container comes with a cubic capacity of 33 CBM (cubic meters), there are more possibilities to spend less if you ship a 20 ft container as a whole instead of shipping your 15 CBM shipment in LCL.
Simplified Customs Procedures
The customs process includes the inspection of documents. When going FCL, all goods in the container belong to one consignee or cargo owner. So the customs authorities do not have to review and vet various documentation from multiple shippers, which can make the customs procedures more streamlined. If you opt for LCL, one mistake in any document can hold back the cargo release. But FCL shipment will keep that at bay. Besides, the clear ownership for FCL shipments will reduce obstacles when the need for cargo inspection or audits arises. Potential shipping delays caused by customs will be decreased hugely.
6. What are the Challenges of Using FCL?
Relatively Strict Requirements for Shipment Volume
Only shipping large cargo volumes via FCL can seem cost-effective, especially when you can fully utilize a 20ft/40ft container's capacity. However, large shipment volume means that either you have to accumulate enough amount of cargo or the product itself comes in large sizes.
Getting More Inventory Space
Before you decide to transport large quantities of goods using the FCL shipping method, you need to find a space to store them. It requires renting or buying warehouses or other storage facilities. The inventory levels may maintain high if your products feature small sizes. Getting adequate space is one thing; proper inventory management is another. You need to ensure that your items are kept in optimal condition so that quality issues would not occur.
Reduced Flexibility
FCL shipping will lead to a less frequent shipping schedule. After all, you have to gather goods until they can fill a full 20ft/40ft container. And thus, you may have to experience longer lead times between two shipments. This can be a challenge if you operate in a fast-paced industry or have customers who expect quicker turnaround times. The infrequency of shipments can limit your ability to respond swiftly to changes in demand or market conditions.
7. How to Calculate FCL Shipment Charges?
In FCL shipping, the rate is calculated based on a flat fee per container. You have to pay for an entire shipping container even if your goods cannot fill up one.
There are also some additional costs when shipping FCL, like handling charges, chassis fees, drayage fees, destination port fees, customs fees, and import duties and taxes.
8. Capacity of FCL Containers
Below we will show you the capacity and dimensions of commonly used containers in FCL shipping.
20-foot Container

- A 20-foot container can hold approximately 33 CBM of cargo loads. And it can transport 10 standard pallets or 11 European pallets.

40-foot Container

- A 40-foot container can hold approximately 67 CBM of cargo loads. And it can transport 21 standard pallets or 25 European pallets.

40-foot High Cube Container

- A 40-foot high cube container can hold approximately 76 CBM of cargo loads. And it can transport 25 European pallets and there remains an additional space of 8.3 m³.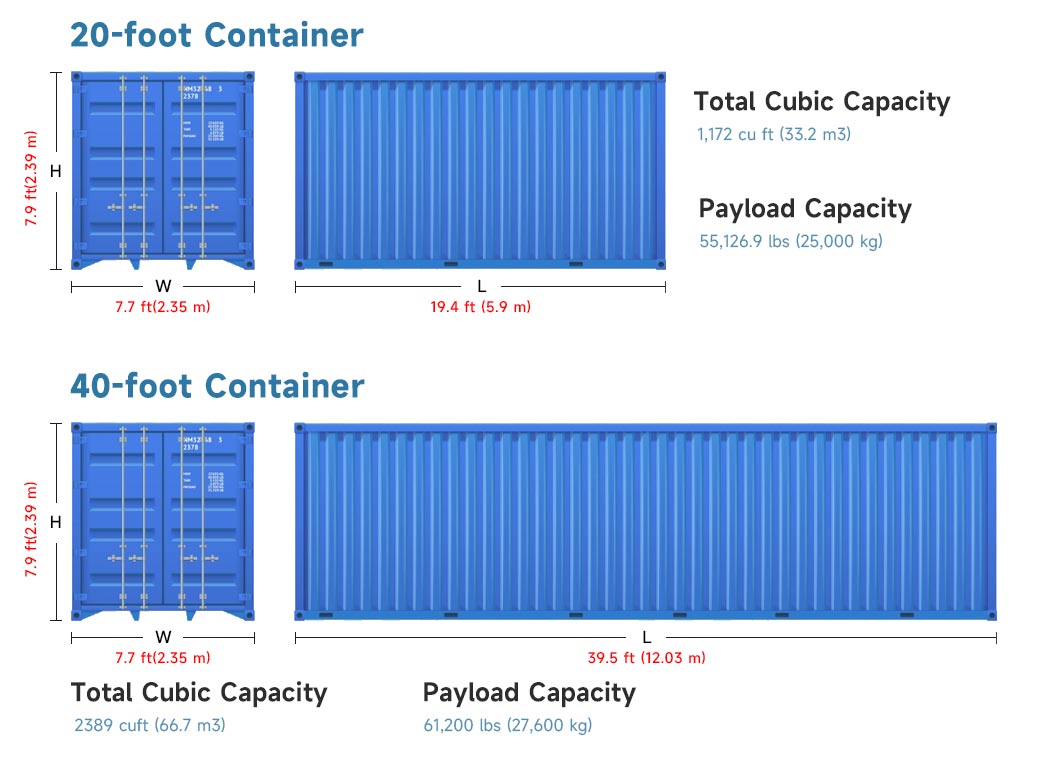 9. Commonly-used FCL Container Types
There are various sea containers available for use that come in different functions. They can serve as FCL containers to hold different types of cargoes.
● Standard Dry Containers
● Refrigerated Containers
● Tank Containers
● Flat Rack Containers
● Collapsible Flat Rack Containers
10. What Features Do FCL Containers Have?
FCL containers may get various features to meet specific sea freight shipping demands. Below let us take a look at it.
● Tunnel container has a double door on both sides so the loading can be done from both sides.
● Open-sided containers have a bi-fold door on one of the longer sides so it can be fully opened.
● Double open-sided containers have two bi-fold doors on both the longer sides of the container.
● Open-top containers have an open top covered by a tarpaulin roof, which is removable.
● Refrigerated containers or reefer containers, are meant for goods that have to temperature controlled during shipping. For instance, frozen or perishable goods.
● Flat rack containers refer to containers that are flat so the cargo can be loaded from either the top or the both sides.
● Tank containers are intermodal containers that are used to transport liquids, gases, and powders.
11. FCL vs. LCL: How to Choose Between FCL and LCL?
FCL vs. LCL: The Shipment Volume
First and foremost, the shipment volume is what can determine which one will be cost-effective for you. As we mentioned above, when the total volume of your shipment reaches 14 CBM, it can be more suitable to opt for FCL shipping. Shipments with a volume below 14 CBM will be considered small loads. If so, choose LCL.
The FCL shipping costs are calculated based on two factors: a fixed rate for renting containers and the shipping route on which your cargo is transported. Since you are able to rent the whole container space at a flat rate by using FCL, shipping costs per volume via FCL are much cheaper than LCL rates.
FCL vs. LCL: The Transit Times
Shipping FCL can bring along shorter transit times because you do not have to wait for the consolidation and deconsolidation to be finished. Besides, customs procedures can go smoother with FCL shipments for the reason that they only involve one single consignee or shipper. If you value transit times, you'd better go FCL. LCL seems like a preferable option when you can endure longer transit times.
FCL vs. LCL: The Cargo Types
There are certain kinds of goods that require extra protection and careful handling. For example, fragile goods. Using the FCL shipping method can effectively reduce exposure to all kinds of risks.
12. When Should You Book FCL Shipments?
When You Have Sufficient Quantities of Cargo or Large Volume of Shipment
FCL shipping will be the most cost-effective shipping option when you can fully utilize the container's capacity. Even if you do not have enough cargo to fill an entire container, a 14 CBM shipment volume will make FCL look like an economical option.
When You Want Additional Cargo Protection During Sea Freight Transportation
In fact, risks are impossible to get eliminated, especially in sea freight shipping. If you really want to lower the potential risks, try FCL. Under FCL, your cargo does not have to share container space with cargo from other shippers. And the container will be strictly sealed before the vessel departure, with the shipments inside untouched until it arrives at the port of destination.
13. How to Ship FCL with Seabay Logistics?
At Seabay Logistics, we have put so much effort into collecting the most updated FCL freight rates from various shipping lines. At a single glance, you will obtain an overview of FCL shipping rates. Check a variety of FCL prices in real-time and choose the most suitable or competitive one. Or, you can directly request an instant quote here.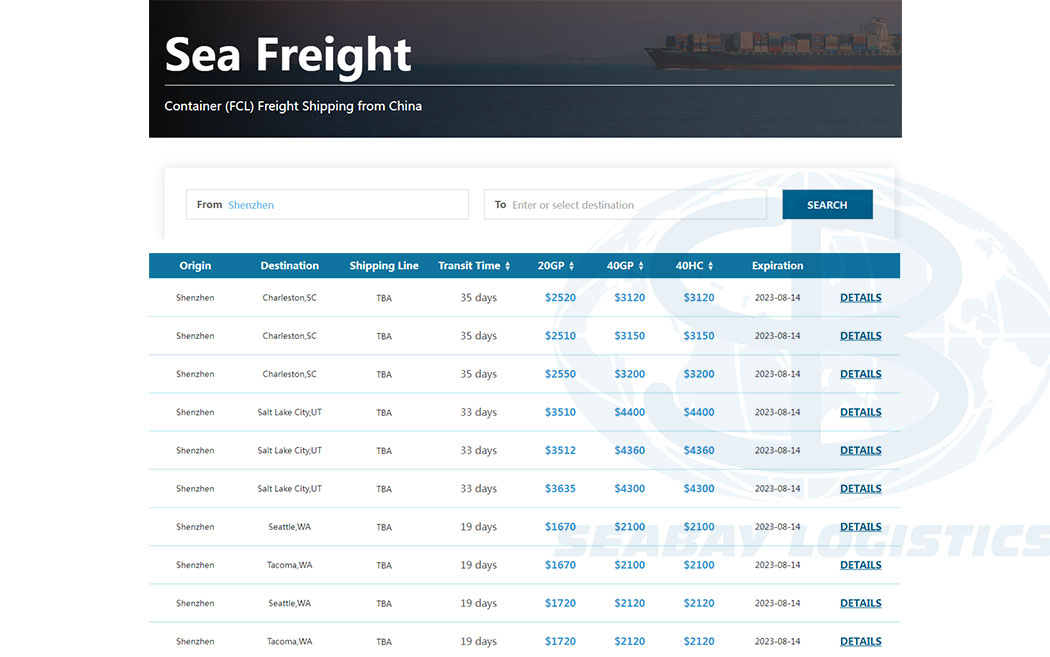 If you decide to book FCL shipments, just let us know. Our sea freight experience will guarantee you a seamless and hassle-free FCL shipping process. We work closely with a vast network of trusted agents worldwide, ensuring that your cargo will be handled with the utmost care and reach its destination on time. Also, we are well-versed in importing and exporting, making sure that the customs clearance for your FCL shipments will go smoothly. Whether you have a one-time shipment or require regular FCL services, Seabay Logistics is here to meet all your shipping needs. Contact us now, and let us handle your FCL shipments with care and expertise.